Why try Gutsy?
Made in belgium
Our kibble is produced on Belgian soil, more specifically in Ghent. With Gutsy, we truly want to make a difference and thus also support the local economy. 85% of all our ingredients come from a 160km radius of where we produce our kibble.
Approved by picky eaters
A lot of dogs are picky but due to our unique ingredients such as insects, chicken and sweet potatoes that are also 100% natural, we score tremendously with difficult eaters.
planet-friendly
Gutsy uses insects as an outstanding source of protein. The ecological footprint of insects is 30 times smaller per kg than that of beef. This means that by serving Gutsy you and your dog have the opportunity to reduce your own carbon footprint as well.
a surprising solution
With our hybrid solution, using both insects and chicken, we make sustainable dog food sexy and accessible. Join the Gutsy pack on our adventure to change the world.
100% recyclable
Our packaging is made of mono-plastic, which means all bags are 100% recyclable. So please make sure to sort them after use!
Expert approved
Thanks to our collaboration with accredited experts, we are able to serve fantastic kibble which taste deliciously and digest wonderfully.
Winner, winner, insect dinner!
There are numerous advantages to eating insects. Did you know insects are …
HYPOALLERGENIC
Our kibble is hypoallergenic and therefore perfect for dogs with a sensitive stomach. Allergic reactions are a thing of the past, you can ask our loyal customer Otis!
HIGH QUALITY PROTEINS
Not all proteins are easy to digest. That is where Gutsy makes the difference. We only use high-quality and easy digestible proteins in our dog food.
AN ECOLOGICAL ALTERNATIVE
Insects do not only have tiny legs, they also have a tiny ecological footprint, you can feed your dog with a clean conscience.
RICH IN VITAMINS & MINERALS
Thanks to our extraordinary ingredients such as insects, apples, carrots and beets, we ensure that your dog receives a healthy and well-balanced diet.
NATURAL CLEANERS
The favorite food of insects? Our leftovers! They feed themselves with leftover wheat and beet sugar. So no planet was harmed by feeding insects.
They already joined the pack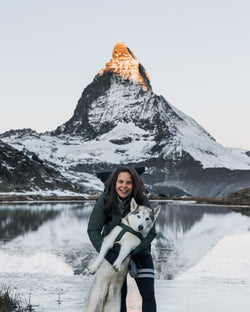 Quinn is crazy about Gutsy. She has never emptied her bowl so quickly. Best of all, she doesn't even realise that she is doing her part for the climate.
Sofie & Quinn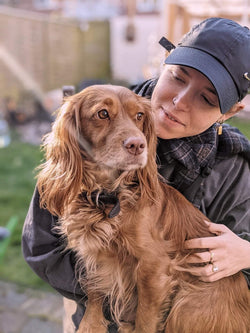 Nono is a proud mother of 4 fantastic puppies. With Gutsy, we have found a perfectly balanced diet for the whole family.
Manon & Nono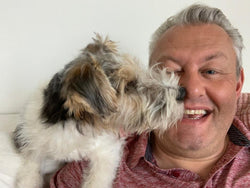 We had to search for a long time for the right food for Henry as he is allergic to all kinds of ingredients, but thanks to Gutsy's hypoallergenic dog food, these allergies are a thing of the past.
Tom & Henry